News & Events
Have you found a news article about our community that you think we should share? Please send it to admin@wahnapitaefirstnation.com for consideration to be added to our website. Our community has made the news many times in recent years, and with your help, we can show community pride by sharing more of these stories.
Miigwetch
MP Serré encourages Nickel Belt - Greater Sudbury to participate in a consultation on telecommunication services
June 12, 2018 PRESS RELEASE
For Immediate Release
MP Serré encourages Nickel Belt - Greater Sudbury to participate in a consultation on telecommunication services.
"The Government of Canada is making sure that when it comes to telecom services, all Canadians benefit from improved quality, coverage and price."
NICKEL BELT / GREATER SUDBURY - Marc Serré, Member of Parliament for Nickel Belt, current Chair of the National Rural Caucus and past Chair and current member of the Northern Ontario Caucus, is proud that the federal government announced a series of measures to improve telecom services for Canadians. "This is a topic that has been a priority of mine since taking office in 2015. I have had countless meetings and conversations with the private sector, stakeholders, municipalities and constituents imploring the need for broadband and high-speed internet services for all of Northern Ontario residents, including in small municipalities and isolated First Nations communities that need it most to ensure their long-term survival." said Serré.
"High-speed Internet access is no longer a luxury; it is a key driver for improving Canadians' economic and social well-being. Internet access can help residents connect with the services they need, access medical help and fully participate in the digital economy." he continued.
---
Anishinabek Nation commends Moose Cree First Nation and volunteers for successful Little NHL
MISSISSAUGA, ON (March 15, 2017) – Anishinabek Nation Grand Council Chief Patrick Madahbee congratulates host community for the Little NHL - Moose Cree First Nation and the organizers, volunteers, LNHL executive and the many teams who participated.

"This has been a record-breaking year with 203 teams registered to play in this event," says Grand Council Chief Madahbee. "I commend the host community Moose Cree First Nation and all the folks who made this Little NHL a successful event yet again. It is so great to see the participation of the communities and the teams come out year after year."
---
Wahnapitae First Nation to be Included in Nickel Belt Riding
Queen's Park – This afternoon, members of the General Government Committee voted to pass NDP MPP France Gélinas' amendment to include Wahnapitae First Nation in the provincial riding of Nickel Belt. The committee was considering Bill 45, the Election Statute Law Amendment Act.
"This is fabulous news for the members of Wahnapitae First Nation and I am thrilled the committee agreed with my amendment to make this important change happen," said Nickel Belt MPP France Gélinas. "Last year, a similar attempt was voted down by the Liberal government."
---
Wahnapitae First Nation joins growing Green Economy network
November 24, 2016 For Immediate Release

SUDBURY - Green Economy North is excited to add Wahnapitae First Nation to its growing membership.
"We are thrilled to welcome Wahnapitae First Nation the 10th member of our program, and as the first indigenous organization in our Ontario-wide network," said Richard Eberhardt, Program Manager. "Wahnapitae First Nation has an excellent reputation among local Indigenous organizations for its commitment to sustainable development."
Working with Green Economy North, Wahnapitae First Nation will measure and manage its energy usage and carbon emissions, and will set a target for reductions.
---
The Great Lakes Gathering. For the Water. Ojibway Park.
Sault on Line - By Lynne Brown - July 13, 2016
On Thursday July 14 to July 17th, hundreds of people will gather on the shores of Lake Huron at Ojibway Park in Garden River First Nation for the Great Lakes Gathering.
A Sunrise Ceremony will open four days of ceremonies, welcoming Nibi Onji Canoe Journey and Water Keepers Journey, two separate ceremonial canoe journeys which started in June, and became one approximately three weeks ago.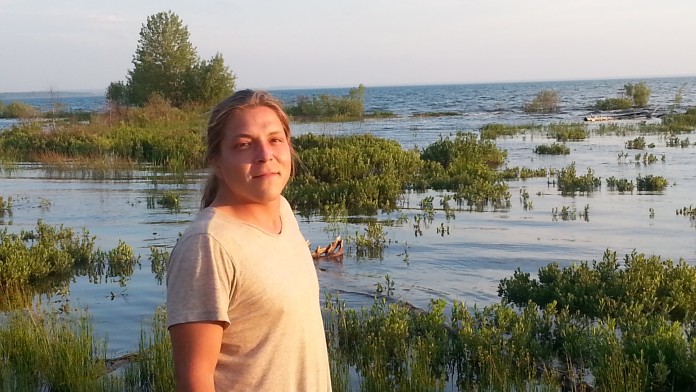 Edward E. George, Stoney Point First Nation is Nibi Onji Canoe Journey. Saultonline sat down with Edward at Ojibway Park on Tuesday, and will share a story later about his journey. An epic journey that inspired many along the route, including canoe paddlers who joined Nibi Onji and are still with him, paddling their way to Sunrise Ceremony on Thursday, July 14th. Edward has had incredible shore support as well. Joanne Robertson (Fiddlehead Farms, Goulais River) is mapping the route and a person call follow along via Facebook page.
CLICK HERE to read the full article.